High-quality stuff is waiting for your Great Dane
For our loyal customers and those who joined us lately we created this

FREE Newsletter

, which you can subscribe for right here on this page! This is an alternative pages, our archive of all sent Newsletters for you not to miss something interesting, topical, life themes and discussions. Join us, learn everything you're interested in, get to know more about your dog's life and features and enjoy reading this intertaining, yet informative source!!
If you read this newsletter, you are probably the owner of Great Dane dog breed. When I think of a gentle giant among dogs, the first breed that comes to my mind is a powerful and amazing Great Dane. This larger dog is gentle, sweet pet, that is in the Guinness Book of World Records as "world's tallest dog". Our fascination with this breed is endless. His size, personality, and appearance are all magnetic. Where did this majestic breed come from? Spend a few minutes to read our newsletter to find out interesting information about your Gentle Giant.
"He is your friend, your partner, your defender, your dog. You are his life, his love, his leader. He will be yours, faithful and true, to the last beat of his heart. You owe it to him to be worthy of such devotion." - Unknown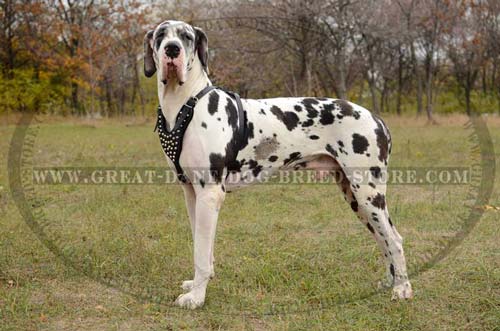 Walk your happy Great Dane in style!
Brief information about Great Dane
The homeland of Great Dane is Germany. The Great Danes appeared in 15th century and are considered to be the offspring of the Molossian dogs and English Smooth Hounds. This is the description of Great Dane breed made in 1675: "Great Dane's appearance is similar to a beautiful horse, he combines big height, huge strength and elegance. He has no Mastiff's clumsiness, but he isn't so slim as Hound as well. He presents a gold mean between these two breeds".
---