Are you ready to start keeping Great Dane?
For our loyal customers and those who joined us lately we created this

FREE Newsletter

, which you can subscribe for right here on this page! This is an alternative pages, our archive of all sent Newsletters for you not to miss something interesting, topical, life themes and discussions. Join us, learn everything you're interested in, get to know more about your dog's life and features and enjoy reading this intertaining, yet informative source!!
When you decided to have a dog, why have you chosen Great Dane dog breed? Maybe because of his excellent character, which makes him ideal family dog? As the saying goes: "Once a Great Dane, always a Great Dane". There is no doubt that your Gentle Giant is a great companion for you. He is calm, devoted, alert, sensitive, friendly dog breed that also needs love and care. He is considered to be the ''king of dogs'' due to his large size and elegance appearance. We would like to thank you for subscribing to our newsletters. So, if you want to learm more about your favorite dog breed, spend a few minutes for reading interesting articles on different subjects concerning Great Dane. Have a nice week and s
pend your free time with pleasure!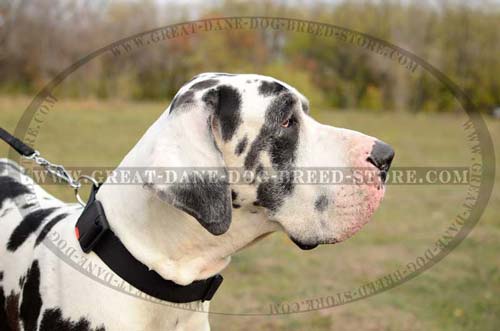 Are you ready to start keeping Great Dane?
Before taking home pretty little puppy with pink tummy, stop for a minute and think. Life is going to change not only for the dog, but for everybody, who lives in your house and for your neighbours also. Before making this crucial step (Great Dane is a big-sized dog, remember?), it will be useful to answer some questions.
Premium Training System for Great Dane

Dog-E-Walk Device for fast training

What equipment do you usually use when training your Great Dane? Of course, training may be of different types and the equipment for each of them is chosen correspondingly. Today we offer you New Training System, that is meant to teach your Great Dane to obey basic commands and prevent pulling. The Device is easy to use and harmless. It's a new word in process of dog training. Buy it and join the community of happy dog owners and their obedient Great Danes!

Extra Large Wire Muzzle for Great Dane

Amazing Wire Cage Muzzle for Great Dane

Have you ever imagined that your Great Dane may wear a muzzle, but feel like being without it? This is exactly how Great Wire Muzzle, we offer, makes your dog feel! It allows your dog not only to breath freely, but also to pant, bark and even drink. Just think over this advantage. On the one hand, when properly fitted, it's impossible for Great Dane to bite anybody. On the other hand, this Wire Muzzle doesn't restrain your pet too much and allows him to do all the necessary activities.
---